WCCE11 will take place at UCA Convention Center, located in the Puerto Madero district, in the intersection of Ave. Alicia Moreau de Justo and Ave. Rosario Vera Peņaloza, in Buenos Aires, Argentina, The UCA Convention Center is a recycled building of Puerto Madero, which has a diversity of auditoriums, meeting rooms and exposition areas, where the materials originally used for its construction, combine and integrate with the most modern technologies for a Congress
Puerto Madero
Puerto Madero occupies a revamped dockside area of the old Buenos Aires port, being one of the most successful recent waterfront renewal projects in the world. It is now one of the most enjoyable and important touristic places of the city. It contains at walking distance fancy restaurants and steakhouses, coffee shops, museums, sleek skyscrapers that house multinational corporations and high-value apartments. Among the attractions of Puerto Madero, it is to be mentioned the Puente de la Mujer (Bridge of the Woman) and several historic sailing ships moored in its docks, such as the frigate Sarmiento and the corvette Uruguay. Next to Puerto Madero is the Costanera Sur Ecological Reserve, which offers surprising landscapes in the middle of nature, at a very short distance from the city business center.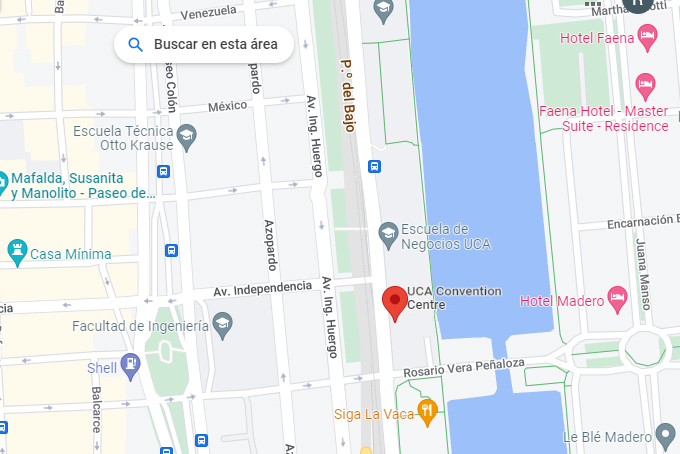 Distances from the UCA Convention Center
Ezeiza - Ministro Pistarini Airport 32 km
Aeroparque - Jorge Newbery Airport 7.7 km
Retiro train stations 3.0 km
Buenos Aires
Buenos Aires, the capital of the Argentine Republic, is a fascinating and friendly city, where the visitors will find a diversity of attractive touristic sites and cultural activities in its theatres and museums. The varied gastronomy of the restaurants allow choosing between many alternatives, going from the international cuisine, to the typical gastronomy like the asado and the regional dishes. In addition, another great attraction of Buenos Aires are the traditional dances like the tango or the folklore, with different choreographies from each region of the country
Argentina
Being a very extended country, Argentina offers a great variety of attractive places to discover. One of them are the Iguazu Falls, considered one of the new Seven Wonders of the World. Other places that cannot be missed are the Perito Moreno glacier, Salta, San Carlos de Bariloche, Puerto Madryn, Ushuaia and the Valle de la Luna (Valley of the Moon), among many others.
Buenos Aires - Argentina - June 4-8, 2023
<! --br --> WCCE11 - 11th&nbspWORLD&nbspCONGRESS&nbspOF CHEMICAL ENGINEERING
IACCHE - XXX INTERAMERICAN CONGRESS OF CHEMICAL ENGINEERING

CAIQ2023 - XI ARGENTINIAN CONGRESS OF CHEMICAL ENGINEERING
CIBIQ2023 - II IBEROAMERICAN CONGRESS OF CHEMICAL ENGINEERING